We took a long car trip during 6 months throughout South America. So as to do that, we wanted to change the Mitsubishi TR4 we had for a pickup truck.
Our main requirement was having enough space to built a "little home" inside it, including a double bed and stocking places – since the plan was to live in the car during the trip.
Checklist to Choose a Car for a Long Road Trip
We considered the following models: a Land Rover Defender, a Toyota Hilux SW4 and a Nissan Xterra, which ended up being our choice.
Keep on reading to know the selection criteria we have used!
We have chosen the diesel motor and highlighted the the pros and cons of our choice:
Pros:

it has stronger power at low speed, lower fuel consumption, more robust and long lasting motor, and it is also easier to find good mechanics on the road – since trucks run by diesel.

Cons:

the vehicle price is usually higher, it is more polluting, makes louder noise inside the cabin (but we got used to it very fast), and it is harder to start in cold weather and at high altitude.
About this last point, it is worth saying we took the pickup to the extreme, taking altitudes over than 5.000 meters and temperatures lower than 0 ºC. It was hard to start the car many times and we had problems in the alternator every 2 months, on average. But even with these issues, the car didn't let us down.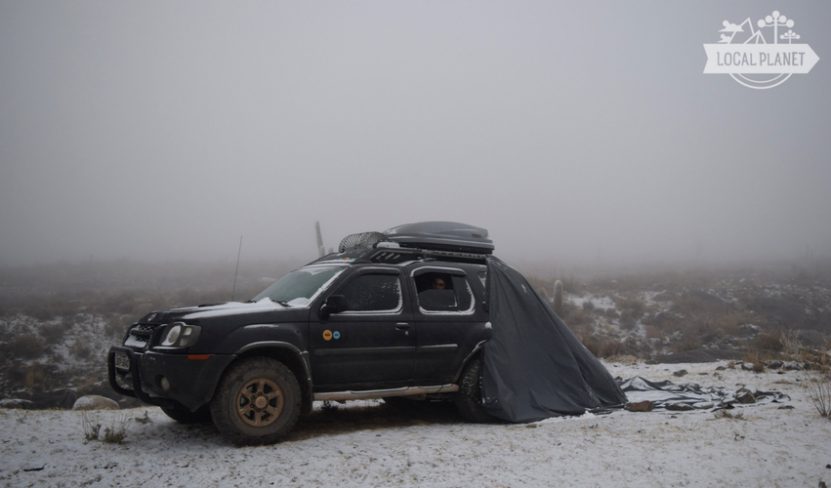 Our brave diesel pickup truck in extreme conditions
2. 4×4 Drive, necessary or not?
I can say that most of the times, even in the toughest trips, the 4×4 is not essential.
However it offers you better confidence in unknown terrains, especially when you decide to enter the backwoods and don't know exactly what you will find.
Since we had a 4×4 drive, we embarked with our camp in the climbing of the volcano Lazcar in Atacama Desert, 5.000 meters high
Most of the time a 4×2 would be enough, parking the car when it gets too tough and keep on walking.
Good off-road style tires can be a way of compensating a little the lack of four-wheel-drive, if it is the case.
3. Going to sleep in the car? Better inside it or outside, with a tent?
After our experience living 6 months in our car, we strongly recommend having room for sleeping.
Besides being very economic, it is also very practical! Having the freedom of staying in a camping or parking in a safe place and have your own bed, with your own pillows and bedding is very good.
We opted to sleep inside it, because we thought it would be safer and more discreet (a tent on the roof seems to call lots of attention, in our opinion). We thought that sleeping inside the car was the right choice, since we slept several times at public places, like gas stations all the way and even at a parking lot of an airport in Bolivia, and felt safe.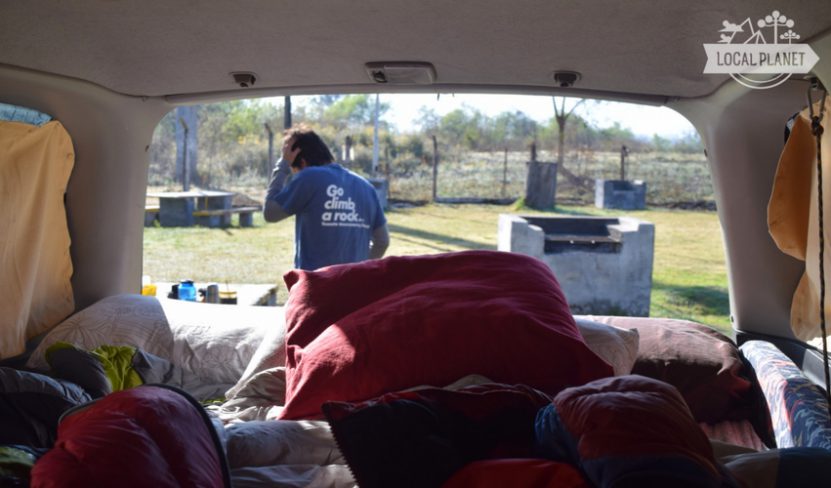 Our bed inside the camper, we chose it this way for being more discreet and safer.
A negative point of our choice and of choosing a pickup instead of a van, was giving up having space for an internal "kitchen" or "living room" in cold days – there were a lot of them in all the highlands of South America. Even with that we enjoyed a lot travelling in a pickup/camper and wouldn't have made a different choice.
We counted on our experience, trying to help this issue, what is actually very personal.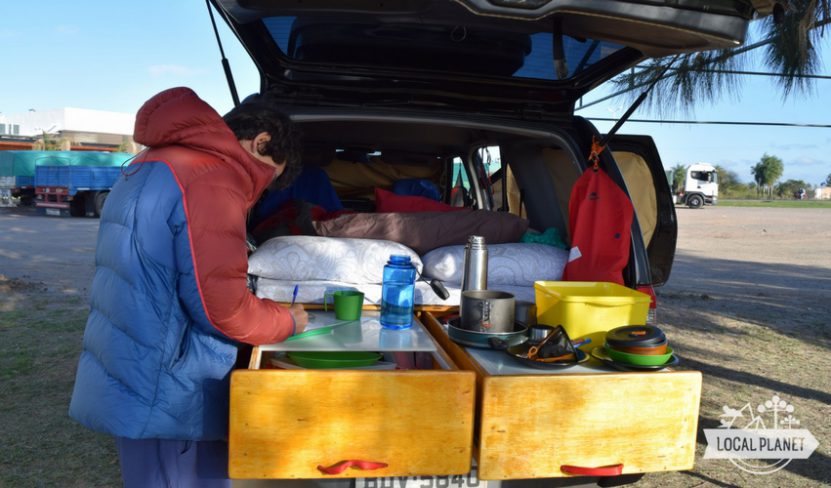 Conversion of our pickup truck Xterra into a camper, with drawers for kitchenware and clothes.
Maybe for being insecure, many people end up choosing to buy a simple and new car  instead of a robust and used one.
But with the right precautions, buying an used one can be worth a lot. Our Xterra, for example, was used and we payed a price similar to a cheaper new car.  
On the other hand, we met on the road a couple from New Zealand that bought a used pickup in Chile and they were having trouble during the entire trip. So…
If you choose to buy an used car, take extra cautions:
When buying an used car, don't leave behind the inspection done by specialized companies. By doing that you reduce the chances of buying a car that has already been through a severe accident

It is also essential to take the car to a mechanic that you trust,

to lift the vehicle and look underneath it

, evaluate the engine – even if you have to pay for that. The more driven a car is, the more attention is required.
Our Xterra is from 2005 and already had 180.000 km on it when we bought. We took all these cautions and took it for a check-up and for a big parts replacement after buying it.
The care was worth it, since we drove for 20.000 km peacefully in our 6 month trip!
5. Look for a car with simple mechanics
Cars with many electronics or more complex mechanics can need a better specialized service, what can be hard to find in small cities.
Without saying that the cost of maintenance tends to be lower in a simple mechanic and it is also easier to find replacement parts.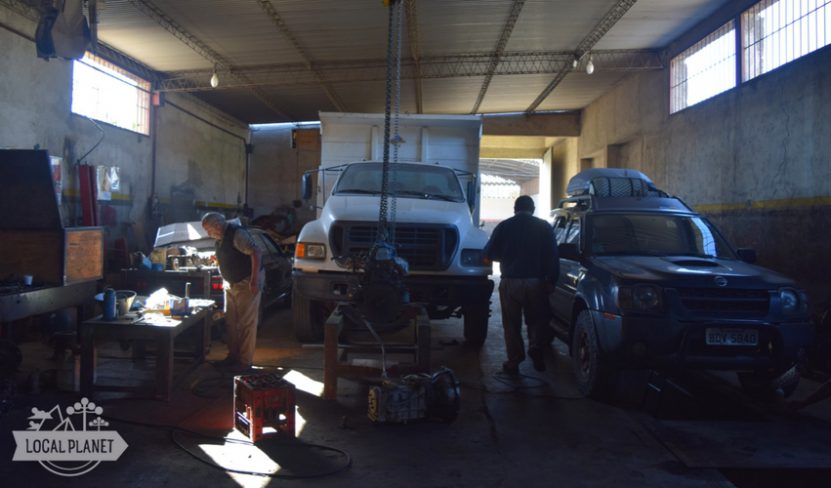 In a mechanic workshop in the North of Argentina
6. Research about replacement parts
Make a priority the easiness to find replacement parts in the places you will pass through during the trip. It is enough searching on the internet, talking to mechanics or even to the salespeople of the auto parts store to get this information.
Hard to find models and brands will need you to buy and bring parts from your city/country.
7. Ask for the opinion of car owners
Talking to other car owners of the same model can also help.
Websites like webmotors have ratings of the vehicles performance, evaluated by owners.
It seems obvious, but it is important to emphasize: before going on a long road trip, test the chosen car in a short trip before, to be sure you can trust it.
Travelling around South America we saw people on board of several vehicles:
Kombis
Jeeps
Motorhomes

Adapted pickups

Motorcycles, bicycles and even on a Vespa!
Here are more travellers and their cars, to inspire you to hit the road too: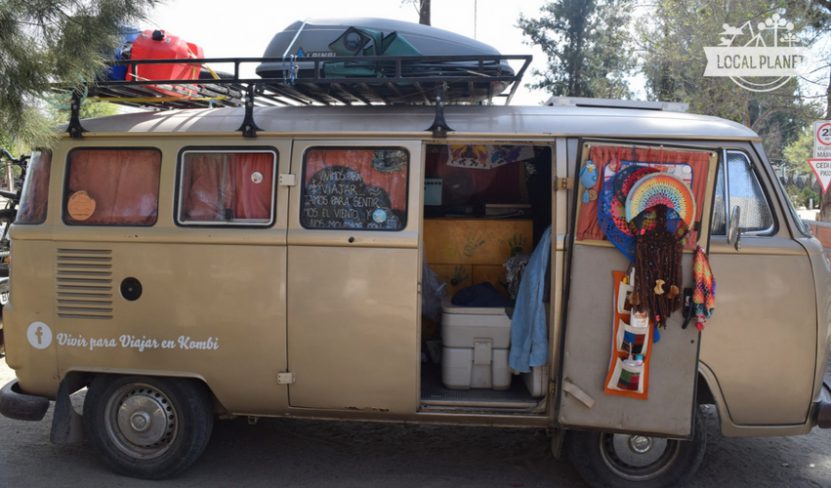 A Kombi from friends from Argentina and Chile, who travel with a 4-year-old kid (Vivir para Viajar en Kombi project).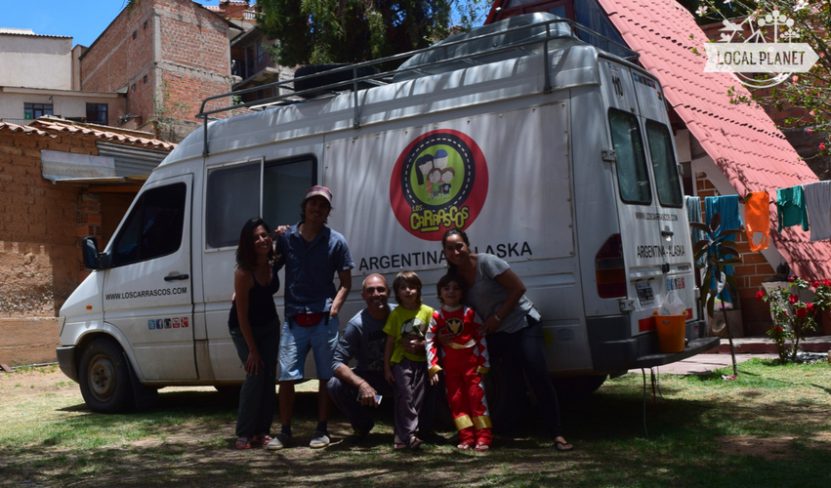 The Argentinian family Los Carrascos with us from Local Planet. They turned a van into a motorhome and their goal is to achieve Alaska, driving for 3 years.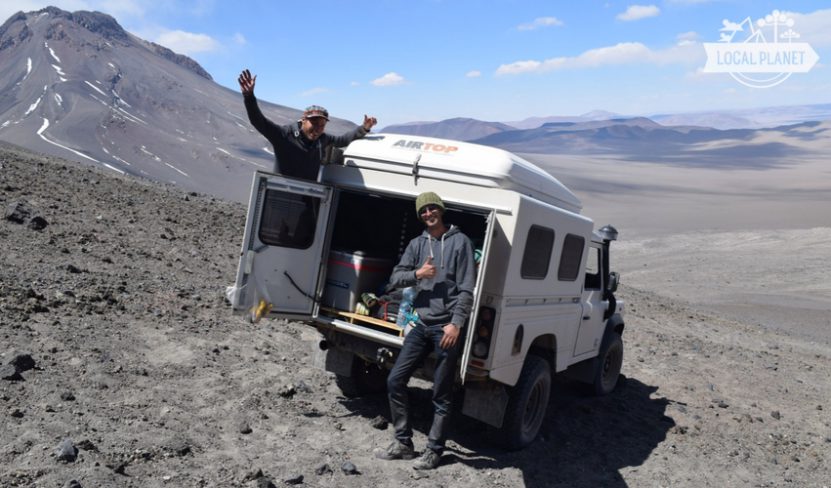 A Toyota Land Cruiser very well equipped (ready for any rally) from Austrian friends, with a single bed and another one on the roof, with Air Top.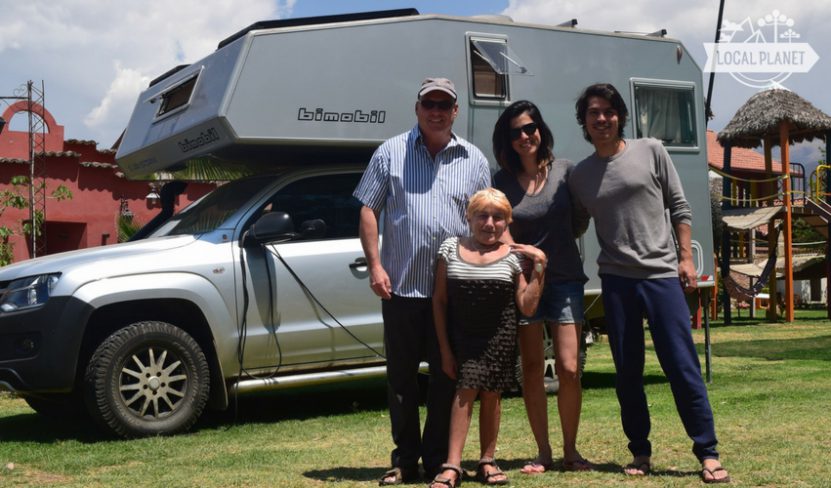 A Pickup truck with a camper above, from a German couple who had already been travelling for a year in South America. We met them in this camping in Bolivia.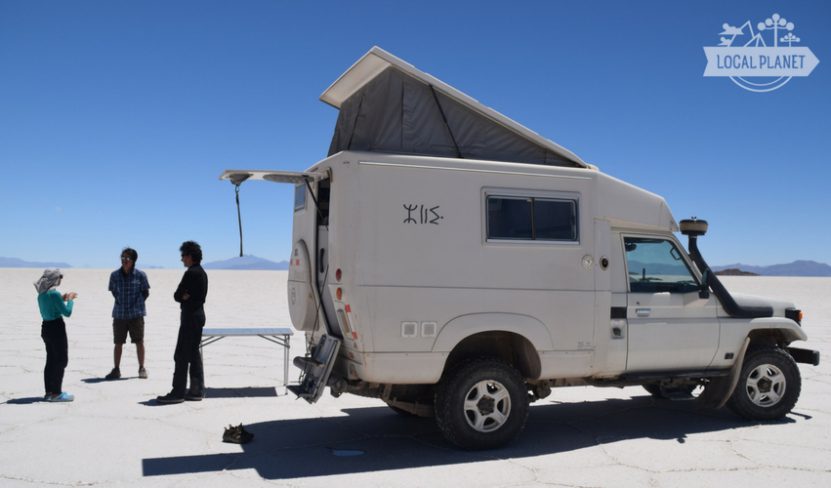 An adapted Toyota Land Cruiser from the most astute campers we knew on the trip! They are from France and are enjoying retirement travelling around South America and practicing amateur photography.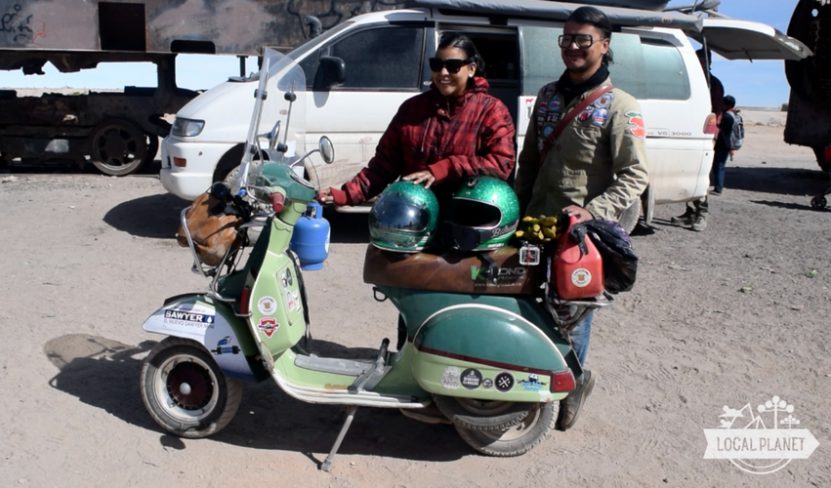 Want to venture yourself beyond a car trip? On board of a Vespa, this couple from Colombia was on the road for 9 months when we met them in Uyuni (Callejeros Sudamerica Project)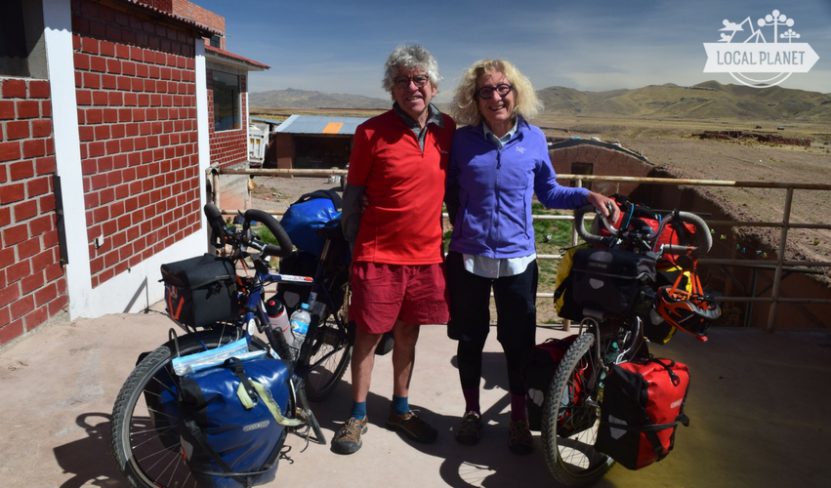 Or take a bike trip, like this couple from France? Everything is possible (:
[new_testimonials main_style="style-3″ main_layout="layout-1″ description="So it is worth to research and plan, but the most important is leaving!" title_font_options="tag:div|color:%23ffffff" subtitle_font_options="tag:div" author="Local Planet" bg_color="#dd9933″ content_t_heading="" title_t_heading="" subtitle_t_heading="" thumb_t_heading="" del_t_heading="" bg_t_heading="" quote_t_heading=""]
Enjoyed the checklist? Share it on social media!